Well-researched and well-prepared topics – that's what editorial work in the age of "trusted content" is all about. The communications agency Fink & Fuchs AG is counting on that, currently expanding its editorial team to seven members. Customer demand for trustworthy textual content, authenticity and quality confirms the Wiesbaden-based communication experts in taking this approach. The editorial team is tasked with preparing the often highly complex subjects of the multi-layered customer portfolio in a clear, target-oriented manner for the individual media genres.
Print and online magazines are still very popular with customers in media relations. They also rank first in terms of the number of copies printed. At the same time, the company's own communication channels, media and appearances play an increasingly important role. Every company is a publisher as well. A team of multifaceted specialists is a genuine increase in value both for articles for business and specialized media and for high-quality content in owned media and own platforms. This is especially true for the success of integrated communication concepts and campaigns. At Fink & Fuchs, content specialists work closely with their colleagues from the consulting, creation, film crew and digital departments. "Convincing, high-quality, credible content is in demand. Customers rightly expect expert knowledge – and this can best be offered through the in-depth cooperation of specialists," says Ralph Pfister, Head of the Editorial Team at Fink & Fuchs. Communication is more than just text – but good texts, good scripts and good concepts are a critical building block. "We create the content that drives our clients forward in interaction with the other teams, based on data and embedded in a strategic concept. Earned media is earned through quality and relevance," explains Pfister.
Two writing experts join in 2018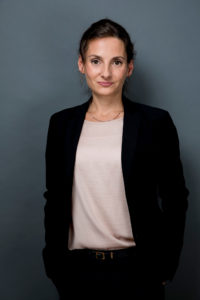 Gabriella Bassu has been supporting the editorial team at Fink & Fuchs since July of this year. She brings to the table her extensive training and professional experience in multimedia journalism and communication work. Her focus lies on digital storytelling and preparing digital business and technology topics. She cut her teeth in this field at the publishing house Werben & Verkaufen GmbH in the print and online division of the magazines W&V and LEAD.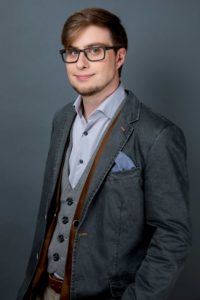 Mattias Nemeth joined Fink & Fuchs in June as a trainee in the agency's training program. The copywriter and poetry slammer is filling out his expert profile at the communications agency with a trainee program in the editorial department. His knowledge of SEO and online will be complemented by further competencies in the B2B sector and corporate publishing. "Our trainees in particular complement us with their diverse backgrounds and provide us with consistently new inspiration. This is the key to success in the complex, multi-layered world of communication," explains Alexandra Groß, Head of Human Resources at Fink & Fuchs. "Our trainee program not only offers them an interesting, future-oriented job in return, but also ensures that our customers have fresh insight on tomorrow's news.
"Rethinking communication" – that is how Fink & Fuchs has been successfully shaping the development of the communications industry for 30 years – including its expertise in the editorial field.