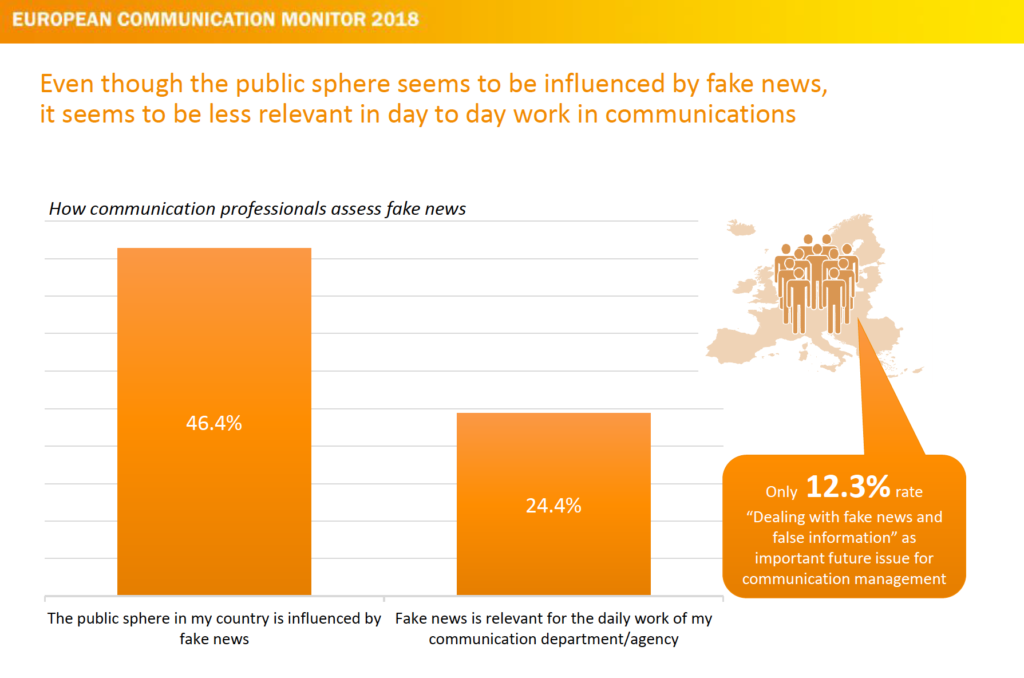 One-in-four organisations has already been affected by fake news, but only 12 per cent have established advanced routines to identify threats, according to a new academic study across 48 countries
Brussels/Berlin, June 13th 2018 – Fake news is not only a buzzword in political debates, but a daily threat for companies and other organisations across the continent. This is one highlight result of the European Communication Monitor, an annual academic study conducted by several renowned communication professors and supported by the European Association of Communication Directors, which was launched today at the European Communication Summit in Berlin.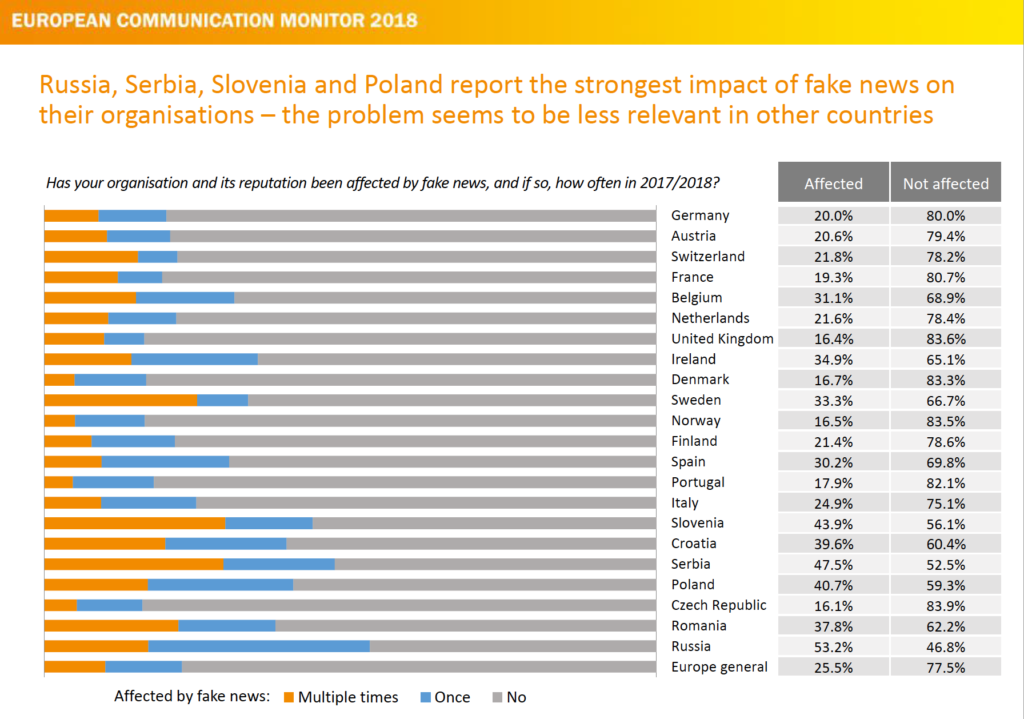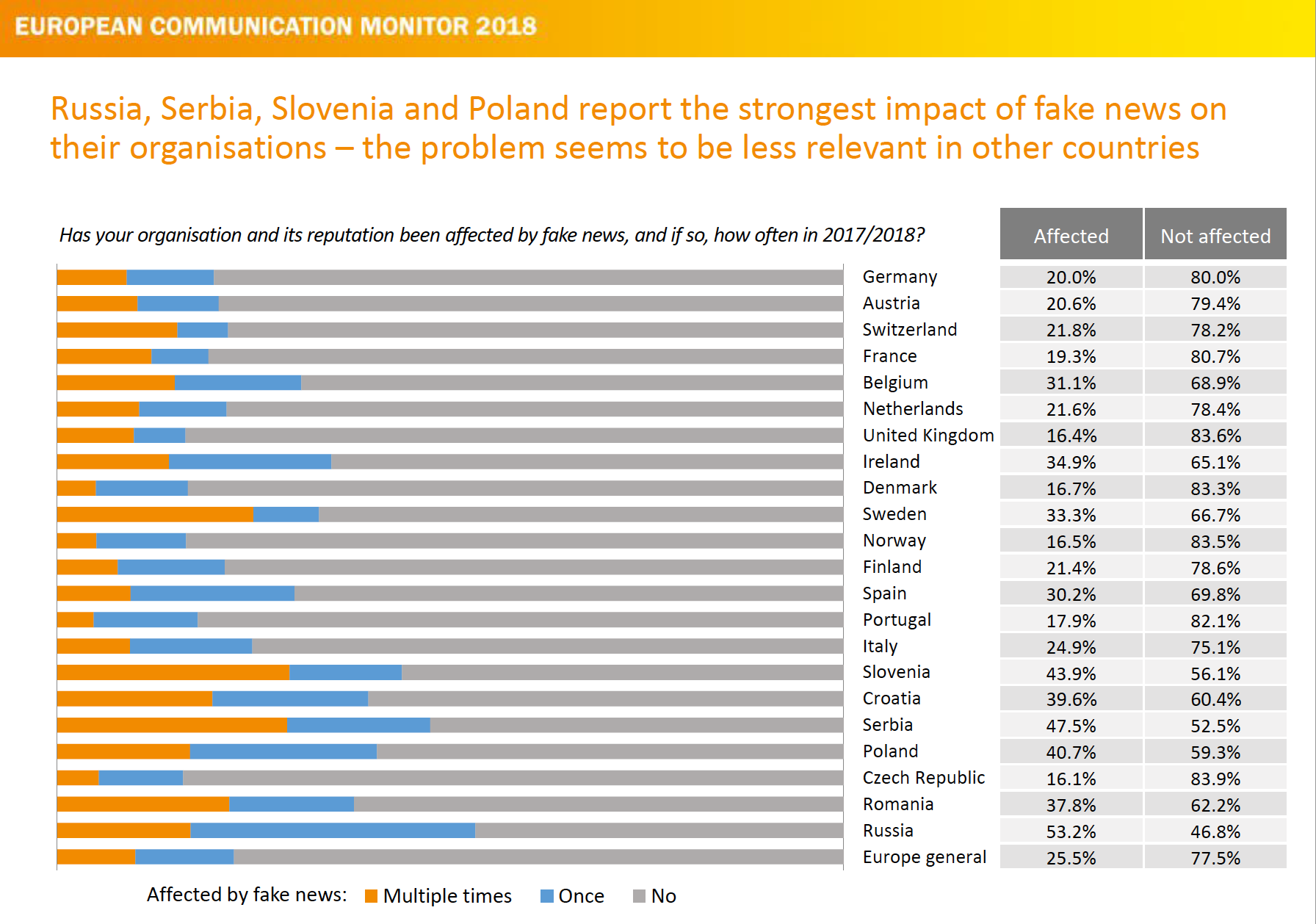 The strongest impact on organisations of news in mass or social media that is intentionally and verifiably false is reported by communication practitioners working in Russia (53.2 per cent), followed by Serbia, Slovenia and Poland (all more than 40 per cent). The United Kingdom, France, Norway, and the Czech Republic are least affected (below 17 per cent), while Germany, The Netherlands, Italy, Spain, and Sweden range in the middle with every fifth to third organisation being targeted during the last year.
Fake news mainly affect government organisations and the public sector
The most affected by fake news are government-owned, public sector and political organisations (44.6 per cent have been affected at least once in 2017/2018).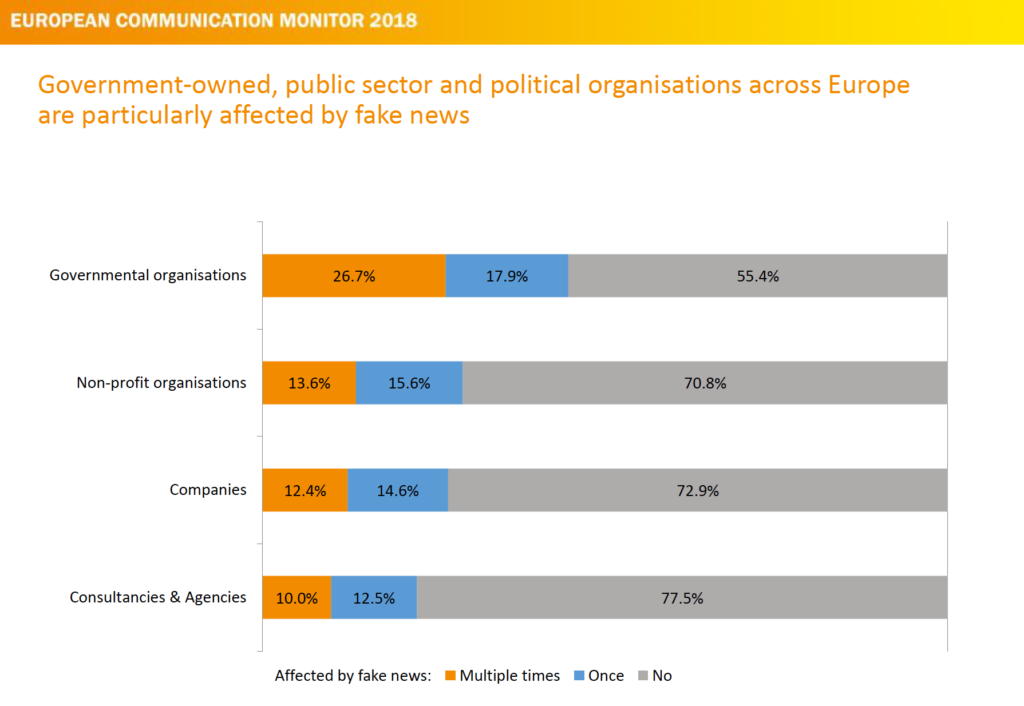 The sources of fake news follow the origins of the debate with social media being the main source of misleading content (81.3 per cent), but mass media (59.6 per cent) can also originate this form of information. In some organisations (14.3 per cent) misleading content was even promoted through internal media like intranets and employee social media.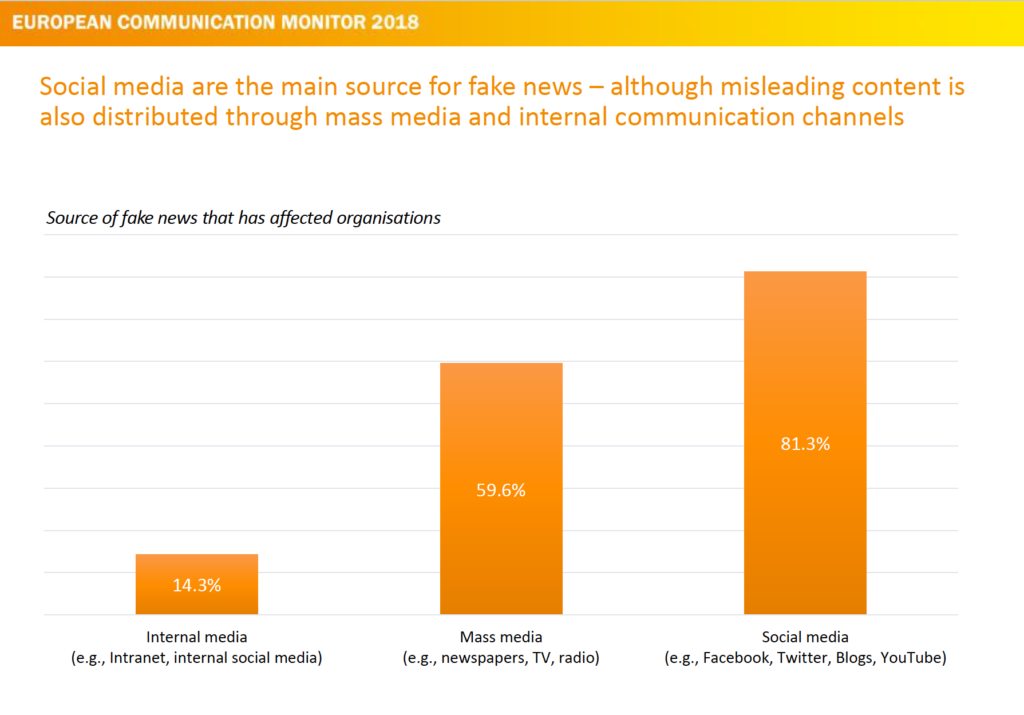 Despite this threat for reputation and brands, it is striking that one third of the communication professionals across Europe have not given closer attention to the debate. Fake news also does not filter into the day to day work of communications departments and agencies with just a quarter (24.4 per cent) citing its daily relevance. Perhaps more surprisingly given the context discussed, very few are sufficiently prepared to identify fake news: Only 12 per cent of affected organisations have established advanced routines to identify further threats.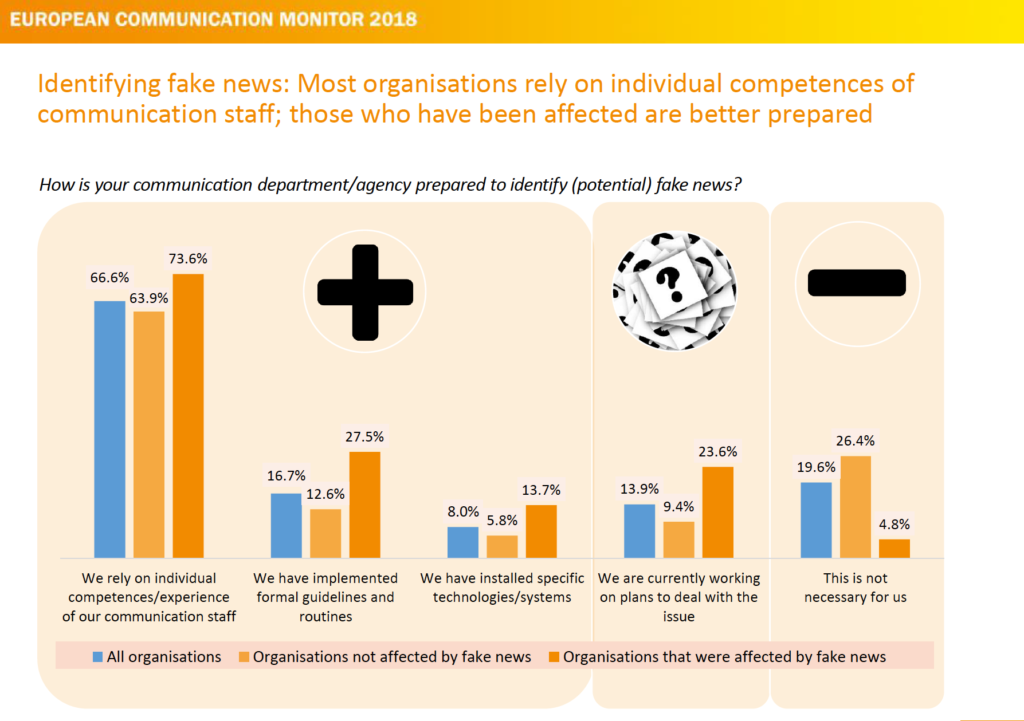 It's about protecting your reputation from fake news
Protecting reputation however is a key task for corporate leaders and their communication advisers in today's volatile world. "Trusted content, trusted leaders and trusted organisations are a rock in the surf of this unstable world", says lead researcher Prof. Ansgar Zerfass from the University of Leipzig. Inge Wallage, Managing Director of the European Association of Communication Directors (EACD), adds: "Today's media landscape requires communication professionals to react promptly via multiple media channels. The study delivers crucial findings on the practices that must be developed to retain a competitive edge."
This year's edition of the largest survey on strategic communication worldwide is based on almost 3,100 respondents from 48 European countries. A PDF report with full results is available at www.communicationmonitor.eu. The ECM is annually organised by the European Public Relations Education and Research Association (EUPRERA) and the European Association of Communication Directors (EACD), supported by partners PRIME Research and Fink & Fuchs. The communication monitor series is known as the most comprehensive academic research in the field worldwide covering more than 80 countries – the European survey is complemented by bi-annual surveys in other regions like Asia-Pacific, Latin and North America.
See the full report:
[slideshare id=102268767&doc=ecm18-europeancommunicationmonitor-2018-180613072429]