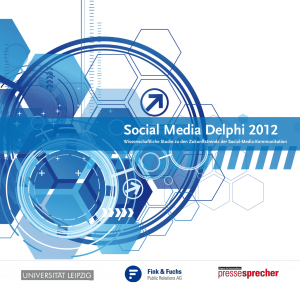 The study "Social Media Delphi 2012" combines a survey of 860 communications professionals who work for companies, governmental institutions, associations and non-profit organizations with a two-stage Delphi Survey of 32 leading experts from the world of business and academia, both in Germany. Well-known organizations like BASF, BITKOM, Deutsche Post DHL, Max-Planck-Gesellschaft, Greenpeace and Puma took part in it.
The results show that social media communications in Germany has established itself less quickly and that the necessary parameters have been installed more slowly than those responsible for communications had broadly projected. Nevertheless, if we look at how it has progressed over time, we see that there has been a constant development process.
Social Media Governance – highly relevant, yet many obstacles
The project concluded the three year study series "Social Media Governance," a joint project of the University of Leipzig, Fink & Fuchs Public Relations (Wiesbaden) and the "pressesprecher" magazine (Berlin). In addition to providing results on the status quo, the 60-page study report includes statements on trends and recommendations on practical courses of action.
The 60-page report on the results that also includes many helpful illustrations is only available in German and can be ordered as PDF oder printed booklet. Continue reading Final Study Social Media Governance – the delphi results