Corporate communications is becoming an increasingly datafied business but communicators still lack analytical skills. While communications is becoming an increasingly datafied profession, many communicators still lack the analytical skills to make sense of data.
Big Data and Algorithms gain importance in Corporate Communications
More than 70 per cent of European communication professionals believe that big data will change their profession but only one quarter has a developed understanding of the topic.
Three out of four respondents agree that communication activities should be aligned with the external algorithms of search engines or social media platforms. Yet only 21 per cent state that their communication departments or agencies have implemented such routines. Even fewer use the power of algorithms proactively for automatically adapting or creating content.
10-year comparison – Top-Issues remain the same
Moreover, the 2016 European Communication Monitor (ECM) provides for the first time longitudinal data collected over a decade (2007-2016). Responses from more than 21,000 practitioners across Europe show that the strategic alignment of communication and organisational goals is the most constant issue, mentioned as a challenge by more than 42 per cent every single year.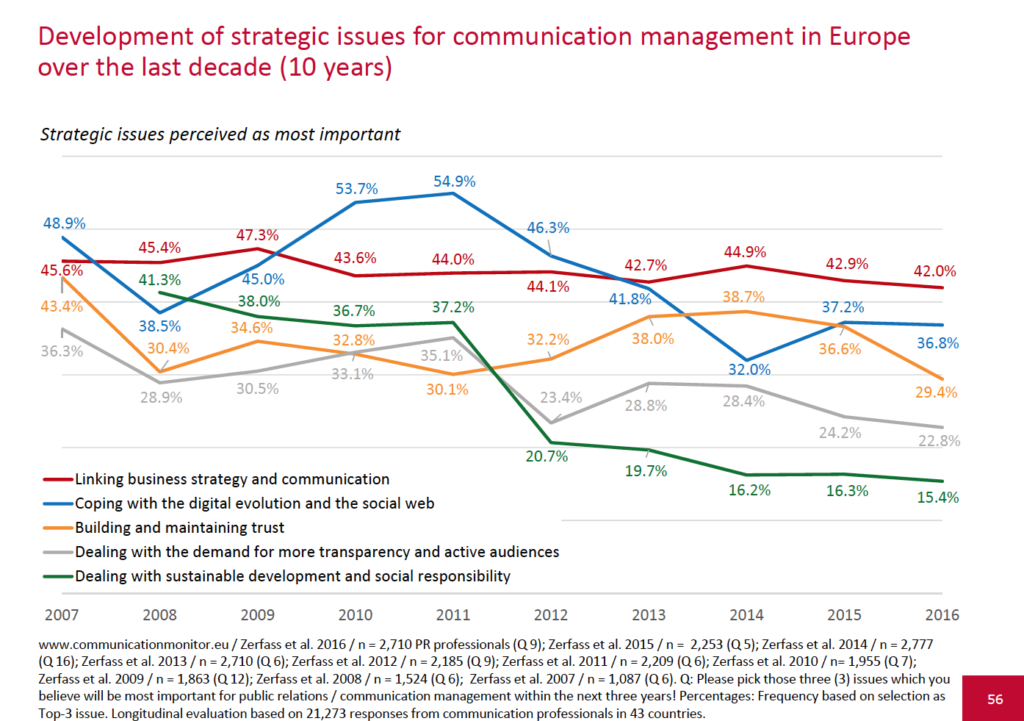 Face-to-face communication is regarded as the most relevant instrument today, taking the top position for the first time in 10 years of data collection. From 2007 to 2011, social media was rated important by a minority of participants; however today 76 per cent favour these instruments, and 89 per cent believe they will be important for addressing stakeholders in 2019.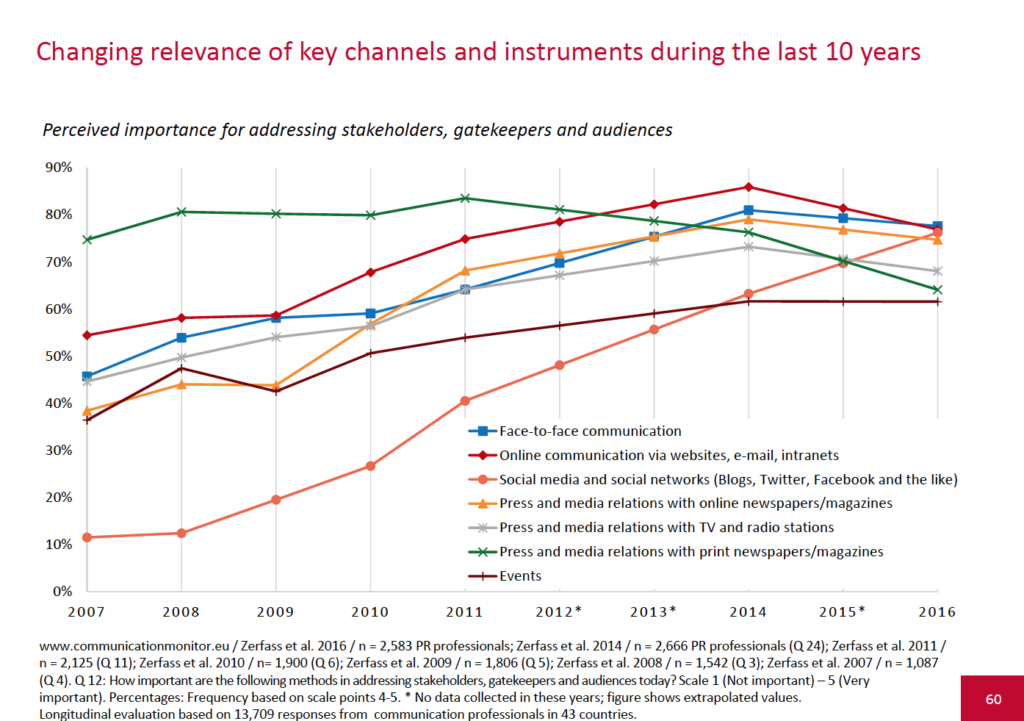 These are some of the key results found in the 10th annual European Communication Monitor (ECM), a survey based on interviews with 2,710 communicators in 43 countries. The monitor was launched today at the European Communication Summit in Brussels. A short video summarising the key findings as well as a full report are available online at http://www.communicationmonitor.eu/.
Professor Ansgar Zerfass, lead researcher of the survey, explained, "For the first time ever, it is possible to track and prove the changing relevance of strategic issues and communication channels over a decade. Longitudinal data from more than 21,000 respondents across Europe based on sound academic standards reveal a rise and decline of digital and social responsibility, as well as the unsolved challenge of linking business strategy and communication."
Digital Transformation within Communication work

"In the past decade, the conditions for the work of communication professionals have altered significantly," said Herbert Heitmann, president of the European Association of Communication Directors (EACD), one of the co-organisers of the ECM. He added: "Most communicators surveyed show a high interest in and follow the debate on developments caused by the digitalisation, which are highly significant to our profession. However, few communication departments have already implemented strategies and tools to cope with specific aspects of the digital evolution. Together with our members across Europe we build a network that aims to resolve these collective challenges."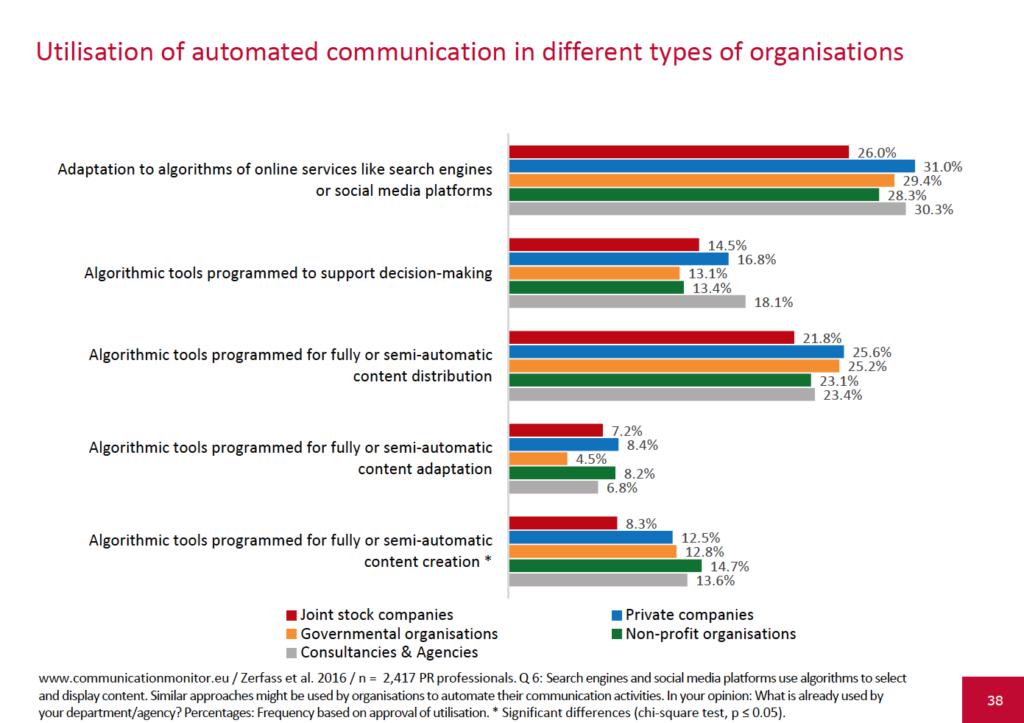 About the European Communication Monitor
The European Communication Monitor survey on the status quo and trends of communication management across Europe is jointly organised by the European Public Relations Education and Research Association (EUPRERA) and the European Association of Communication Directors (EACD). Supported by PRIME Research, a global leader in strategic communication research, the international survey is based on replies from 2,710 communication professionals in 43 countries. A research group of professors from leading universities across the continent, led by Professor Ansgar Zerfass, has conducted the research for the tenth year running. It is recognised as the largest study in the field of strategic communication worldwide.
See the full report within the following slidedeck:
[slideshare id=63781337&doc=ecm2016-results-chartversion-160706150738]