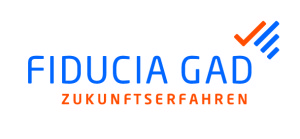 Wiesbaden, August 14, 2015 – Fiducia & GAD IT has awarded its PR account to Fink & Fuchs PR. The company that was formed through the merger of Fiducia and GAD operates as an IT service provider to all 1,100 German Cooperative Banks, the central institutions of the cooperative FinanzGruppe and numerous private and specialized banks.
As part of the new assignment of the account, Fink & Fuchs PR prevailed in an agency pitch and will be helping the company with its external company communications from now on. Fink & Fuchs PR's more than 10 years of experience in the market for financial technology was the main reason to choose the firm.
With turnover of around 1.26 billion euros a year and close to 5,600 employees, the Fiducia & GAD Group is one of the largest IT centers of excellence in Germany. The company provides the IT infrastructure, including the necessary network structures, to more than 164,000 banking workplaces at the connected cooperative credit institutions at its high-security data centers in Karlsruhe and Münster. Fiducia & GAD manages nearly one hundred million customer accounts with the IT solutions it provides. In addition, the IT service provider with approximately 38,000 self-service terminals in Germany also ensures comfortable cash availability throughout the country. With a fresh new brand image and great enthusiasm for technological innovation, the company intends to present itself as a strong partner to the cooperative FinanzGruppe in the future and actively shape the dynamic innovation cycles in the sector.
"Communicating on IT topics – especially in the B2B sector – requires unique experience and skills. Here, Fink & Fuchs really impressed us with their ideas and strategic approaches. We are therefore certain that we now have the right communications professionals at our side," said Wilhelm Schulte, Director of Communications, Marketing and the Corporate Office at Fiducia & GAD IT AG.
"Our collaboration with GAD thus far and their enthusiasm for the developments in the market for financial technology have inspired us to accompany the newly formed brand Fiducia & GAD IT AG with professional communication. We are proud to continue to be active in this exciting environment," explained Alexandra Groß, a Board member of Fink & Fuchs Public Relations.
Brief profile of Fiducia & GAD IT AG
Fiducia & GAD IT AG is the service provider on information technology to the cooperative FinanzGruppe. The company with its administrative headquarters in Karlsruhe and Münster and branch offices in Munich, Frankfurt and Berlin currently has close to 5,600 employees who together generate annual consolidated revenues of approximately 1.26 billion euros. The clientele of Fiducia & GAD includes all 1,100 local cooperative banks in Germany as well as numerous private banks and companies in other industries, including ADAC. The company serves more than 164,000 banking workplaces, manages nearly 100 million customer accounts and ensures comfortable cash availability nationwide with its own 38,000 self-service devices. Fiducia & GAD currently offers two banking procedures "agree" and "bank21" at its four high-security data centers that will gradually be replaced with the uniform future procedure "agree21" in the years to come. Visit the website: www.fiduciagad.de