One of the first milestones in the research project "Value Creating Communication" was the Communication Value Circle published in 2016, an extremely interesting approach to better connect communication with strategic corporate objectives. Launched in 2015 under the direction of Professor Ansgar Zerfaß, the five-year research project of the Academic society for Management & Communication is regarded as the world's most comprehensive research program on corporate communications.
Especially with regard to the often cited deficits in the strategic orientation of communication and in the formulation of viable communication targets aimed at entrepreneurial value added, this new model seems to us to be very suitable for practice. So we spoke with Professor Zerfaß to gain more detailed information.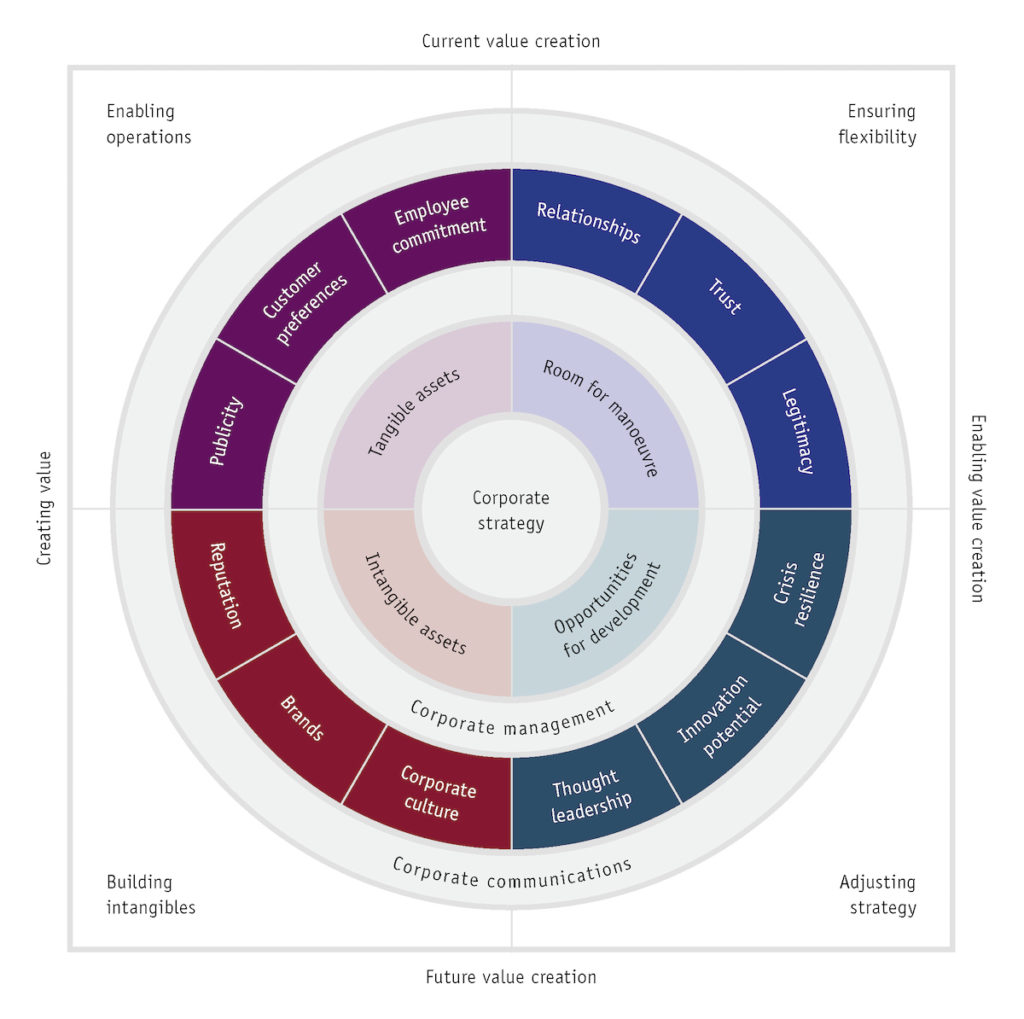 Prof. Zerfaß, what exactly is the Communication Value Circle and on what basis was it developed?
It is a management tool – an aid for those who want to plan and control corporate communication. Such tools and/or frameworks are rare in the PR profession to this point. In strategic management and marketing, on the other hand, they belong to the craftsmanship of every executive – think of concepts for industry structure analysis, the brand steering wheel or similar things.
The Communication Value Circle is therefore not a new measuring instrument, but a thinking tool that can be used in strategic workshops. The idea is quite simple: in the inner circle, four generic starting points of entrepreneurial value creation are depicted. Concrete corporate strategies can be illustrated here, for example, by analyzing and interpreting the internal planning objectives where the business is currently focused: more in the strengthening of profitability and liquidity (tangible assets)? Or perhaps after a merger in the development of intangible assets? And what role do room for action and development potential currently play? This will vary according to company and business unit, but also in the course of time. Focusing on the core value chain illustrates the need for dynamic communication strategies. Standard strategies such as the construction of intangible values such as reputation as the sole objective of communication contradict competition logic.
The outer circle systematizes the most important communicative values. These are targets that can be specifically influenced and measured by means of communication measures. How this is done is well known in the industry. Also, established KPIs (key performance indicators) and measurement methods are used almost everywhere. It is crucial that you must prioritize communication objectives as well as company objectives, for example, by analyzing current communication budgets, resource distributions, campaign goals, etc., and aligning them accordingly.
As a result, the Communication Value Circle (CVC) creates a holistic picture of company objectives and communication objectives. One recognizes where there are gaps, contradictions or deviations in the weighting. This allows you to switch directly. In addition, the CVC is very well suited to show top management and decision makers in other areas how communication pays off for the organization's entire structure, and how diverse communication can work. As with any framework, there is no right or wrong solution – the plausibility depends solely on the experience and the analytical power of those who use it. The systematization, which is based on extensive studies, helps us to forget nothing and to find comprehensible solutions together.
Are there already experiences from practical use or is the Circle a purely scientific idea model?
In the course of our current research project, we have applied the CVC to ten global companies. It has been shown to be well-suited to review communication strategies and to link them to the company's strategy, identifying the need for action.
What do you recommend to practitioners when you talk to them about this model?
The Communication Value Circle can be used to define central communication targets from the business model and business objectives. It is also useful for reviewing and re-adjusting current communication targets and resource distributions. The overall presentation helps in discussions with the general management and other departments.
Once this step has been carried out, value drivers and measured variables can be derived and recorded in scorecards for the identified fields. In this way, links are shown in the strategy for implementation. The CVC thus fits into the instruments of modern communication management.
Who is behind the research project "Value Creating Communication?"
The project was launched in the circle of the Academic Society for Corporate Management & Communication. Several universities, with nearly 40 communication directors from global companies, work together in a non-profit foundation to clarify key questions of our profession. The close exchange makes it possible for us to tackle the topics in the interface between management and communication, which are simply not solvable by individual combatants in practice.
Besides my team at the University of Leipzig, which also includes Günter Bentele, Ulrike Röttger from the University of Münster, Sabine Einwiller from the University of Vienna, Claudia Mast from Stuttgart-Hohenheim as well as the economists Stefan Stieglitz from Duisburg-Essen and Joachim Schwalbach from Berlin are on board. We can also make a difference with modest means and this is now attracting attention and finding acceptance internationally, for example in North America and Asia.
What further research results can we expect in the foreseeable future?
At the end of May, an English-language report on the most important results of "Value Creating Communication" will be published on www.akademische-gesellschaft.com, which is certainly worth reading. "How to play the game?" is the central question that drives every communication manager: How do I manage my department to contribute to the success of the company and how do I report on it?
In addition to the Communication Value Circle, we are also introducing other frameworks and the first version of a toolbox for communication management. If you want to know more, you have to be patient – a German-language book about management tools for communication professionals is in preparation and will be published by Springer Gabler in 2018.
Prof. Zerfaß, thank you for discussing this with us.
Brief biography

Ansgar Zerfaß is Professor of Strategic Communication at the Institute for Communication and Media Science at the University of Leipzig. He is also Professor in Communication and Leadership at BI Norwegian Business School, Oslo, and Plank Scholar at the Plank Center for Leadership and Public Relations at the University of Alabama, USA. With a PhD in Business Administration and postdoctoral studies in Communications Science, he is the publisher of the "International Journal of Strategic Communication." He has published 34 books and more than 300 articles as well as study reports in several languages on his research areas of corporate communications, SME communication, digital communication and international communication. More information and a list of current publications can be found at www.communciationmanagement.de.
Related Links
1) Short article on the topic (for professionals) published in Communication Director
2) Journal article on the topic (more detailed description, including sources, etc.)
3) Background information on the research program Value Creating Communication (web link – brochure)